Five Modern Office Trends for 2019
What's Hot this Year in Commercial Furniture Designs
By Angela D. Wagner
As time marches on, designs and trends come and go. Commercial furniture designs and office trends are no exception. As the modern office makes adjustments to the way people work best and technology changes the way we work, the commercial furniture industry is making changes as well. This year expect to see fresh designs, furnishings that incorporate the latest technology, and multifunctional pieces that meet the demands of today's modern workspaces.
The modern workplace considers the whole employee when determining how to design the office. Businesses who invest in modern office designs, the right commercial furnishings, and interiors consider many ways in which employees can be positively influenced to boost their productivity, sense of worth, and overall health. Research shows that improvements to workspaces have a major impact on employees in several ways including:

Ability to Adapt to Stress
Increased Productivity
Overall Efficiency and Efficacy
Well-being and Wellness
Improved Focus
Lower Absenteeism Rates
Better Overall Happiness
Resommercial and Casual Work Stations
According to the most recent survey of American workers by the United States Bureau of Labor Statistics conducted in 2017, full-time workers in the U.S. spent an average of 8.56 hours a day engaged at work. With people spending so much time at work, it's no wonder resommercial furnishings and casual work stations are increasingly employed in offices both in the U.S. and around the world.
Resommercial furniture has allowed designers to bring the comforts of home into the modern office by combining residential designs with commercial spaces. Such furnishings add a home-like appeal to offices where workers spend such a significant portion of their day, five days a week.
The upholstered leather Baden and Zürich couch by Nienkamper is something you might expect to see in someone's living room. This couch offers maximum comfort and luxury seating with foam core cushions wrapped in a down and feather combination. The simple lines and leather make it a timeless classic for the modern office and matching chairs can be ordered as well. The best part is it is made to last and wears well in a busy commercial setting. Add a couple of throw pillows to make your office feel just like home.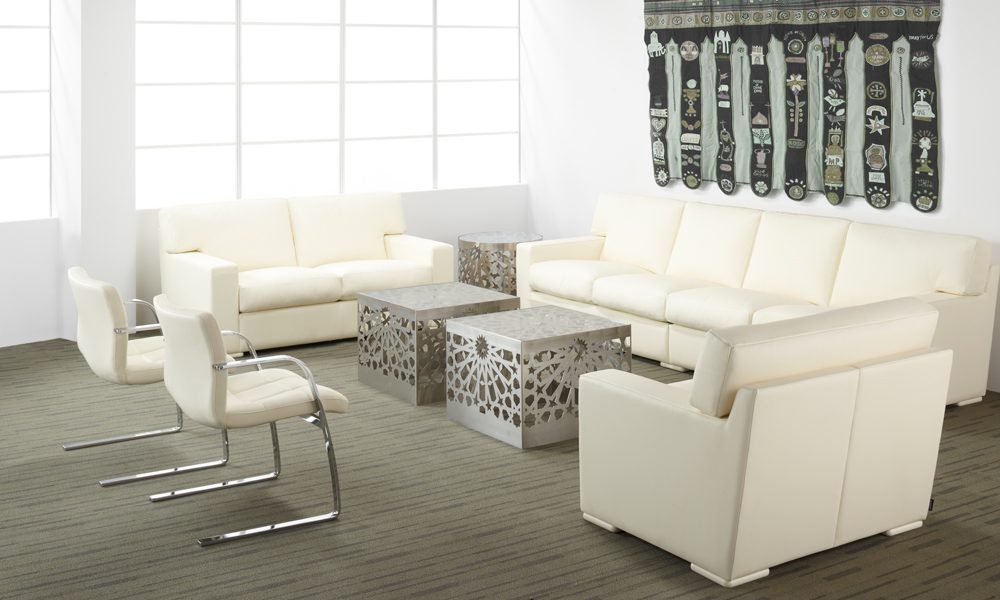 When it comes to casual work stations and desks, there are a number of them available from several manufacturers so employees can work sitting, standing, or both. For a relaxed and open workspace, consider the iMove-C Desking System by Corona Group, Inc. This desking system lets workers change positions throughout the workday which can have a huge impact on their productivity, creativity, and well-being. It also allows for ease of collaboration for working with others in the office.
Another of our new favorites at CORE is the Footprint® by Kimball that allows for an open office, casual workstation concept. The desks and seating can be configured in a variety of ways so employees feel empowered by selecting their workstation set up. There's even some "wall" space to hang photos of the kids, the great outdoors, or a favorite meme.
Free-Range Cohabitation Spaces
With the current unemployment rate sitting at just four percent and job-hopping becoming more commonplace, many companies are seeking ways to attract and retain top talent. One of the ways they are making themselves more attractive to employees is by updating their office space. Many are tearing down walls and adding more open, shared workspaces. This trend allows staff to collaborate flexibly with one another in an efficient manner without seizing a board room to get the job done. Other areas in the office where walls are coming down include reception areas, lounges, and meeting rooms.
In cohabitation spaces where more than one company shares space, it maximizes space, saves money, and promotes collaboration, innovation, and creativity. At CORE, we practice what we preach and our business cohabitates with Fischer Design Studio which gives us constant access to an interior designer. Not only does it help both businesses but our clients have the benefit of having both companies at their fingertips.
Sleek modern couches and chairs that can be combined in a multitude of ways are becoming ever more popular for open spaces and cohabitated work places. The Pairings collection by Kimball® comes in a variety of sharp colors and fabrics to match your interiors while offering employees and guests a comfortable place to chat and work. The collection allows flexibility in movement to add more seating or table space as needed and remove what you don't want for more private, focused group meetings.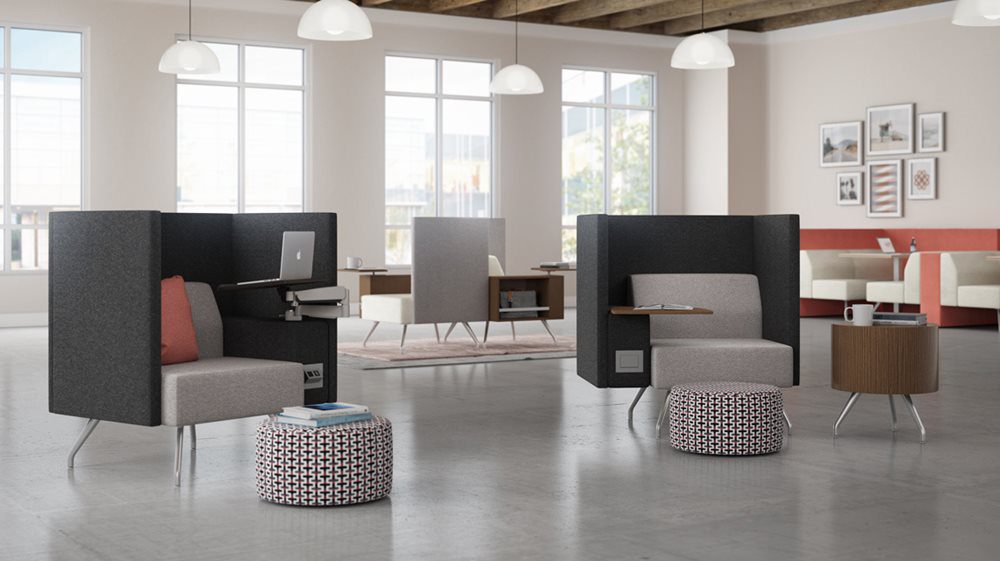 Integra® offers a wide variety of seating for group work and collaborative spaces including the Coffee House which incorporates individual pieces for group seating. These seats offer comfort and style with a multitude of options from the arms and legs to power ports and attached tables. Integra® also offers a variety of benches to fill shared workspaces and allow for comfortable seating as well.
The Corbin lounge by JSI Seating features clean lines and delicate angles that give these couches and chairs an unassuming feel while catching the eye. The seat and back support offer excellent comfort while the craftsmanship promises modern simplicity that will hold up well in busy office spaces. JSI Seating provides several options for the modern office as well. Its Ziva Collection can be configured in an assortment of ways from straight bench seating to waves and circles making it easy for everyone collaborating to see and hear one another, improving communication.
The Community Table by Maverick allows people to greet, meet, eat, and everything in between. Made in the USA, these tables come in a variety of sizes and colors to meet the needs of your office. Whether you want to offer table space for collaboration among employees or a place for them to eat lunch and relax, these tables fit the bill.
Singular Workspaces
Though there has been a huge trend toward collaborative, open workspaces, there are still times people need quiet and privacy in order to concentrate and be most productive. Dedicated independent work spaces are still needed. This can mean "hot desking," where individual desks are not assigned to any one person but are available to anyone who needs it, cutting-edge cubicles, or the traditional assigned desk.
The Apex Freestanding Trough by Maverick is a great option for offices that prefer the "hot desking" method while the Compile System by Evolve Furniture Group gives a modern twist to the cubicles of yesteryear. There are also endless individual desk options to choose from such as the Task by in2design that can incorporate everything from storage space to technology in one place.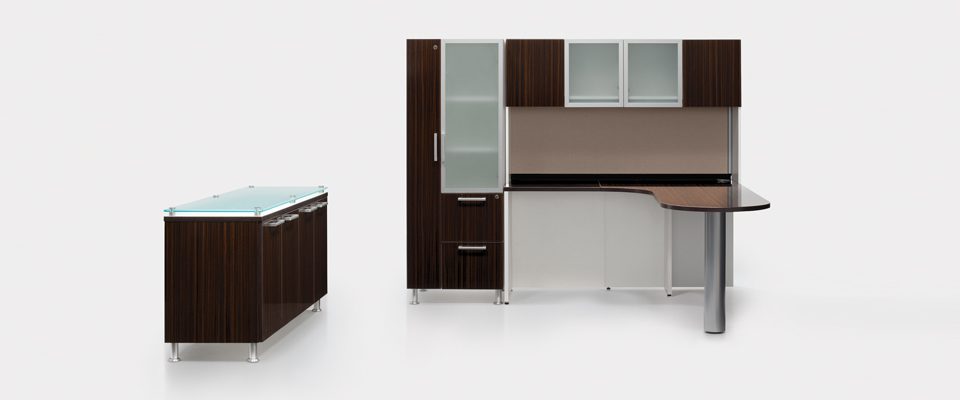 "Smart" Furnishings
Another top trend in 2019 is incorporating modern technology into commercial furniture. "Smart" furniture has become a reality. From cable management and tabletop outlets, technology in commercial furnishings have continued to evolve.
Consider the Vamp desk lamp by Safco. It offers everything from LED lighting and touch-free dimmer switches with memory recall to flicker-free, energy-saving, economical lighting. The Vamp has eight color settings and a filter to reduce glare making the viewing of electronics easier. This straight-lined lamp even boasts a flexible neck to allow for personal adjustments. If you like curves, the Vivo desk lamp by Safco is another option with most of the same features as the Vamp including a flexible neck so you don't have to strain your own. Many varieties of desk lamps also offer discreet charging ports and even wireless charging stations including the Z-BAR desk lamp by Koncept Lighting. Imagine cordless charging at your fingertips!
While standing desks are nothing new, today's versions can be completely automated. Imagine taking your desk from sitting to standing and back with the touch of a button. There's no need for cranks, levers, or clumsy manual lift desks.
The Priority™ by Kimball provides both amazing designs and incredible beauty with simple mobility. Not only do height-adjustable desks enable workers to go from sitting to standing and back again, but they take into consideration the best ergonomics for day to day work. JSI offers a number of height-adjustable options in many shapes, sizes, designs, and price points to fit the needs of every office. There are even mobile apps that connect with Bluetooth-enabled standing desks, tabletops embedded with "personal assistant" touchscreens, and wireless surface chargers that can be desk or table mounted. Under-desk mounted CPU holders now save space beneath standing desks as well.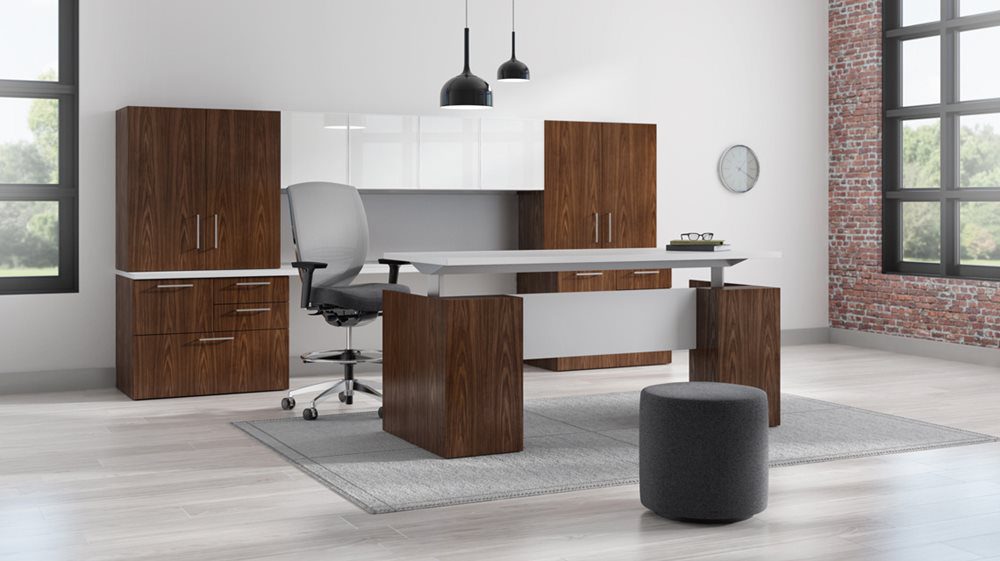 Fullbright Glass Boards offers magnetic glass boards that have replaced the hard-to-clean white boards of days past. These cutting-edge magnetic glass boards can now be used in everything from conference room tabletops to elevator walling, workstation tack boards, and kitchen backsplashes. No need to fuss about where to have meetings since they even come in mobile form so they can be moved from place to place with ease.
Incorporation of Natural Designs
In 2018 the working world watched in wonder as natural designs and shapes entered the workplace. This year, expect to see an uptick in architects and office designers bringing the great outdoors indoors to add energy to workspaces. Expect to see more plants, real wood furniture, and other biophilic design elements in the modern office.
The concept of biophilic design means using the architectural framework found in nature to build an eco-friendly, sustainable workplace that breathes life into the work environment. Some of the key features of this form of architecture include:
Natural, Sustainable Materials
Plants and Trees
Living Green Walls
Natural Lighting
Thermal Comfort and High-Quality Ventilation
Visual Connections with Nature
Biophilic design embraces the idea that the environments in which people spend significant amounts of time have a direct impact on their health. Amazon's workspace in Seattle, known as the Spheres, is a terrific example of how botanical workspaces are finding their way into mainstream offices. Woodland Furniture produces stunning furniture using real wood for everything from desks to tables and cabinetry. Space dividers that double as planters from in2design are a terrific option for bringing in plants to energize any office.
Kimball, offers wood case goods that will add modern sophistication to any office. Take, for example, Transcend® with its rich woods in a variety of colors and configurations. Maverick Office Solutions offers a number of wood case goods as well in its Sierra, Canyon, and Napa signature series' among others.
So whether you're breaking down walls to break down workplace barriers, want to open your office to more natural light and go green, or you simply wish to integrate more beauty and comfort into your office, 2019 is your year to shine. Let CORE take the guesswork out of everything from space planning to commercial furnishing designs with integrated technology. Call CORE today at (520) 999-3470 or visit us online to schedule your free consultation.