Superior Customer Service From Order Processing To Installation
At CORE, we understand that providing every client with superior customer service is just as important as the quality office interiors we sell. That's why CORE has assembled the best team of specialists to give our clients the first-class service they deserve from the initial phone call to beyond the completion of every project.
Hilary Folterbeck
Hilary is the library manager for CORE. As a commercial office retailer for a wide variety of furniture manufacturers, CORE has a substantial library consisting of books, clothing swatches, and chips in addition to other items in its library. All of this has to be kept in top order at all times which is where Hilary comes in. She handles all of the exiting library contents in addition to integrating new tiles, fabrics, and books.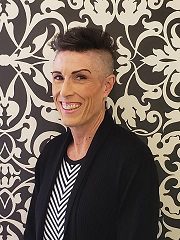 Leslie Simpson
Account Executive
520-999-3472, Ext. 1002
Leslie, the newest member of the CORE team, joined CORE in November 2019 as an account executive to fulfill the needs of CORE's clients. With a degree in design from the University of Kentucky, Leslie spent 20 years in commercial and residential design before entering commercial sales. For 14 years, Leslie was a sales representative for the flooring industry before changing direction to sell lighting for five years. In May 2019, Leslie and her husband relocated to Tucson where she was introduced to CORE's principal, Mercedes Flores. Leslie was an ideal fit for CORE thanks to her sales and interior design background as well as her experience in working with national accounts including Fry's, Macy's, American Girl, and Proctor and Gamble. Leslie said the best part of working at CORE is that she gets to build relationships with her clients, listen to their needs, and make it happen for them.
At CORE, we proudly partner with National Office Furniture, JSI and Inscape as well as several other office furniture manufacturers to provide corporate furniture for the most modern office. Our experienced professionals deliver a wide array of boutique-style services including:
At CORE, our goal is to provide the best furnishing solutions for our clients with the highest level of service.  Every client is assigned a dedicated point of contact for their entire project and beyond.  CORE customers can expect regular updates on orders and deadlines as we move throughout the various phases of their project.  Communication is a CORE principle for providing superior, world-class service with a personal touch.
At CORE, we are here to serve you.