The three must haves for your home office
By Angela D. Wagner
Since the onset of the COVID-19 pandemic, more people than ever before have been working remotely. Although many have been able to return to their offices, a recent Gallup poll suggests that one-third of Americans are still working from home. A piece from Review42 indicates 77 percent of telecommuters claim to be more productive than in the office. Remote employees can reportedly earn up to $4,000 more annually, so it's a good thing 55 percent of businesses worldwide offer some capacity for remote work.
It's not just workers who benefit, though. According to the aforementioned article from Review42, companies can save an average of $11,000 annually for every employee who works remotely half-time. That's real money businesses could be saving!
Thankfully your home office can be just as functional as the workplace with a few simple upgrades and essential office must-haves such as an adjustable desk, an ergonomic chair, and a variety of storage solutions that are as stunning as they are practical.
Adjustable Desks
It's a widely-known fact that sitting at a desk day in and day out can be detrimental to your health. Experts suggest taking breaks to stretch or move approximately every 30 minutes to combat this problem, but another solution is to invest in a standing desk. Researchers at the University of Waterloo advise full time employees to stand 45 minutes out of every hour that they're working. That adds up to six hours of standing time a day!
Most standing desks today are completely adjustable, meaning you can easily convert your standard desk to a standing one in a matter of seconds. The RockIt @Home Sit/Stand Desk from Inscape is designed to make changing work positions simple, quick, and quiet with its squeeze paddle lift activation. The RockIt is abrasion, heat, fade, and stain-resistant and is available in two colors that can easily fit into any home office space. A 1-inch safety contour protects your fingers when adjusting the height and the seamless design makes it easy to keep clean.
If you'd rather adapt the desk you're currently working in, HON offers a number of desktop risers that can be used for laptop or desktop computers. These risers can be used to mimic the feel of a standing desk without disrupting the entire workspace. The company's entire Coordinate series is designed to make sit-to-stand workspaces both functional and elegant.
For some, though, the standard work desk reigns king. If your home office needs a basic upgrade now that you're working remotely, look no further than the Nomad table from Berco Designs. The chic, industrial design will work best with exposed brick, pipes, or steampunk décor and is available in a number of finishes, heights, and sizes. Glides or casters can be added on for mobility and floor protection.
Ergonomic Chairs
A great chair is by far the number one office must have whether you're working from home or not. The industry leader in customizable and ergonomic office seating is ergoCentric. Their chairs feature six adjustable points so you can easily alter your posture throughout the day between seated, perched, or standing. This reduces injury and can promote both productivity and better health. On the company website you can be virtually fitted for a chair, which ensures it will be fully customized to your specific workplace seating requirements.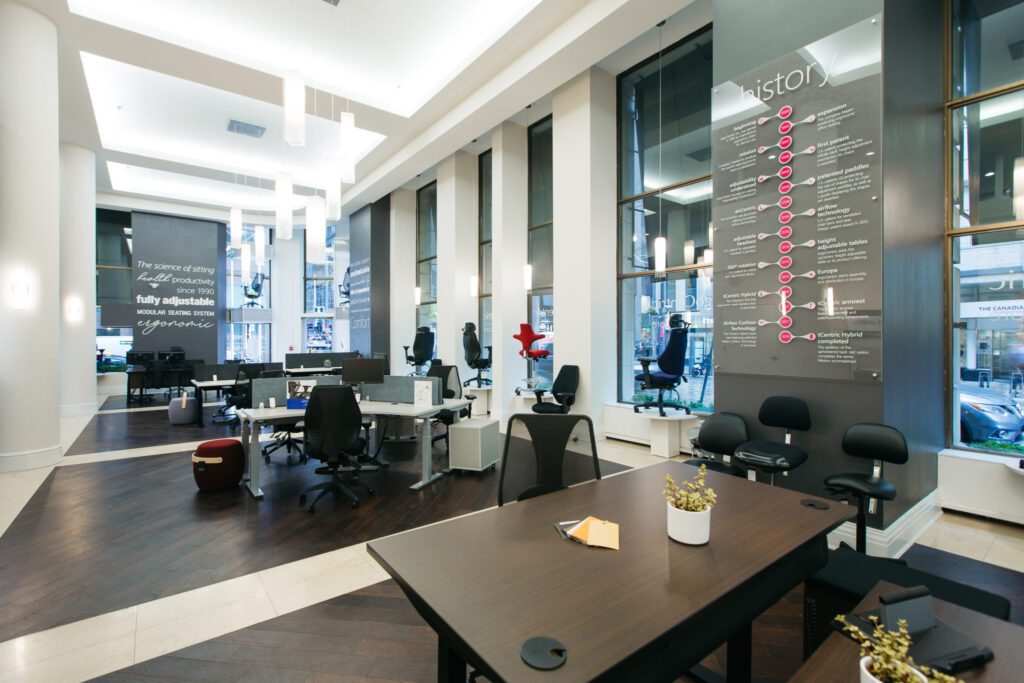 The benefits of ergonomic seating are undeniable, which means they are becoming more widely available. National Office Furniture features a Find Your Sit tool that allows you to find the chair that works best for your workspace. HON also has a multitude of task chairs for you to choose from such as the Ignition, Solve, or the Nucleus. The bottom line is the variety of chairs available is as vast as the number of bottoms that sit in them.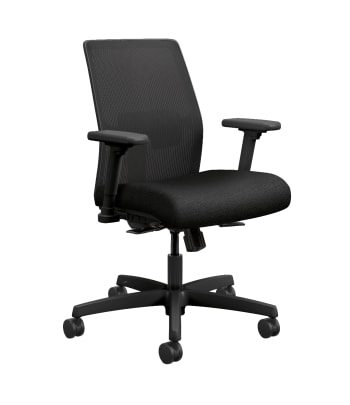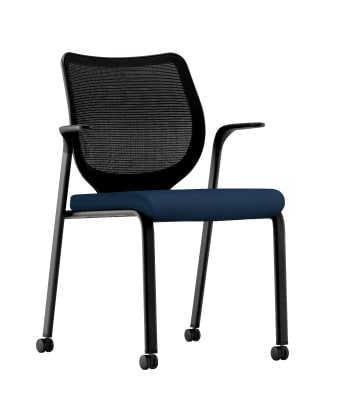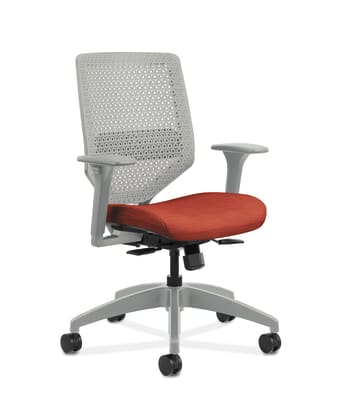 Storage Solutions
Practical yet stylish storage solutions are imperative to creating a truly functional home office. Cabinetry, shelving, credenzas, case goods, and filing cabinets are all great ways to keep your workspace organized as well as looking good.
The most comprehensive solution is a commercial case good which is typically made up of built-in style shelves, cabinets, and drawers that fit behind or perpendicular to a desk. JSI Furniture has a number of beautifully designed case goods to choose from such as the Flux Private Office. The Flux Private Office is made up of individual components, meaning there are countless configurations for you to choose from. All of JSI's case goods are available in a large variety of colors and finishes to fit any space and any design style.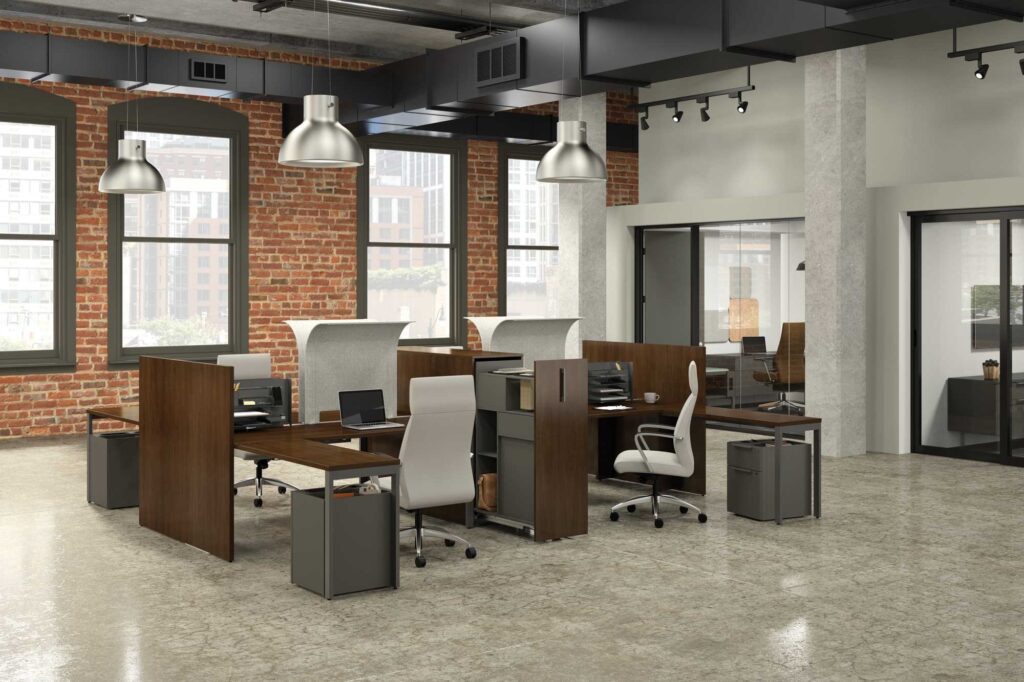 If you're looking for something simpler, National Office Furniture has great options when it comes to storage. National has 11 private office collections making it easy for you to find multiple pieces that match one another and can provide the organizational style you're looking for. The Alloy collection, for example, is made up of locker-style cabinets and drawers whereas the Barrington collection contains more classical-looking bookshelves and chests of drawers.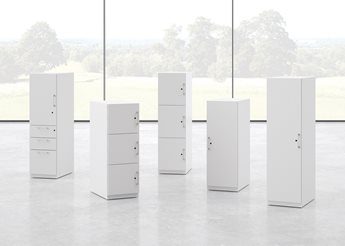 Thonet on the other hand offers more conventional storage solutions such as the Modern Heritage Shelving System. The unit is totally customizable, down to color, finish, and the number of cabinets or shelves included. They also offer credenzas, media consoles, and other products to keep your home office tidy, organized, and ready for work while looking great.
Ancillary Accessories
No home office would be complete without fun and functional accessories. Such accessories can be incorporated to make you more comfortable and your work a little easier. National Office Furniture's Exhibit collection was created on the philosophy to "let the walls do the work," so they offer a selection of markerboards and tackboards to help you utilize available wall space and clear up clutter from your desk. Most people are visual learners, so having a board to write on close by can be extremely beneficial to keep track of lists, notes, and other ideas. They can also be used to decorate your space with personal photos or other types of inspiration.
Tech accessories are also great additions to your home office. A desktop power station is a great way to plug in multiple things at once safely and clear wire clutter from around the desk without being bulky. Another useful thing is a wireless charging pad which can charge your phone without additional wires and can be moved out of the way of paperwork and computers.
In addition to chairs, ergoCentric offers a variety of work-from-home products meant to increase productivity and overall well-being such as anti-fatigue mats and leg and foot rests. The ergoCentric Foot Flexor sits neatly under your desk and encourages you to constantly change the position of your hips, legs, ankle, and lower back muscles. This device relieves tension and static in the muscles so you won't feel as tired or stiff after a long day of work.
If you are interested in upgrading your home office, contact CORE at (520) 999-3470. Our commercial office specialists are here to answer all of your questions and assist you in building a modern, healthy remote work environment for yourself for years to come.