The Christmas gift that will keep giving
A work of the heart made a difference during a difficult holiday
It has been said that one small act of kindness can change the world and so it was this holiday season with Mercedes Flores and her team at CORE. After months of labor and hundreds of hours of work, CORE had successfully helped Casa de los Niños complete its relocation in Tucson, AZ, and made a gift to a special friend will last a lifetime.
A Story of Love
This story of love began in September of 1998 when Terry DuBay decided to adopt a child of her own through Casa de los Niños, a social service organization dedicated to children in search of forever families.
"I was single and had not been married but always wanted to have kids," said DuBay. "Some of my friends said I should start by being a foster parent. That's when I found out about the foster to adopt program."
It wasn't long before DuBay was matched with a five-year-old little girl named Diane.
"She was playing on the playground in the back," recalled DuBay of her first meeting with the child who would become her daughter. "She was just a teeny, tiny little blonde girl that was as cute as a button. I played with her for a while. That weekend, there was a country fair and I got to take her for the day. She came and spent the night on Tuesday and then I got her (permanently) on Thursday. I just immediately fell in love with her. I just adored her."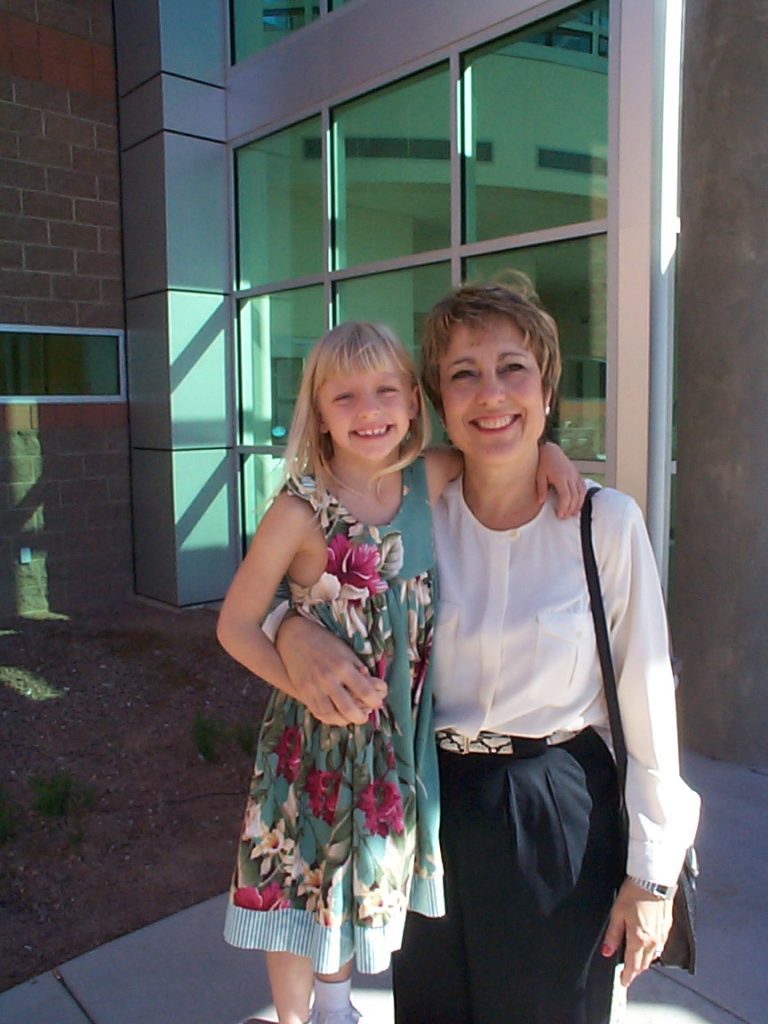 A Growing Family & Tragedy
After a year and a half, Terry was able to adopt Diane as her own. In 2001, Terry and Diane's family grew when Steve Rahn married Terry, giving Diane a father, too. During that time, Terry worked in the same industry as CORE Principal Mercedes Flores and the two women became good friends. Time passed and Diane blossomed into a beautiful young woman but tragedy struck on March 12, 2012, when she died by suicide.
Flores, along with other friends and family, helped DuBay and her husband cope with the loss of their beloved daughter. The couple sought support in a suicide survivor's support group and through grief counseling. They also became involved in a foundation that takes suicide awareness into high schools.
"In a momentary speck of time, they see nothing but hopelessness," DuBay said of those who seek suicide as an answer. "There was a thought process where teachers and counselors didn't want to talk about it because they were afraid kids would do it. It's about awareness, seeing the signs. If you can catch it in time, you can save someone."
Making a Difference
When Flores discovered Casa de los Niños had the huge undertaking of combining five locations into one building, she wanted to help. Flores remembered Diane and wanted to do something nice in her memory so she jumped at the chance to help Casa de los Niños.
Over the course of the last two years, Mercedes and her CORE crew took a full furniture inventory at all six Casa de los Niños locations. Then they used plans for the new building to determine what furniture was still usable and what new furniture would be required.
"We worked with their interior designer and architect to come up with the best possible furniture solutions," said Flores, who tagged every piece of furniture to be relocated. "When it came time to move, we installed the new furniture first. Once it was installed, we helped to coordinate with the movers to bring in the existing furniture. Our installers then went through to make sure everything was put together, level, and good to go."
Flores and the CORE team provided roughly 300 hours of work including project management, inventorying furniture, and coordinating with the movers which saved Casa de los Niños about $20,000.
"I had gone in there because of Terry DuBay," said Flores. "I was really trying to give a bench or something for that new area as I knew that's where Diane had been adopted. The CEO, Susie Huhn, had mentioned they were building a new building. At that point I asked what they were doing for furniture and they didn't have a plan in place yet. So, I thought we had a much bigger opportunity to do something more for Terry than just a bench."
A Group Project
DuBay is a representative for several commercial furniture lines that CORE works with. With this in mind, Flores asked the interior designer if they would be willing to use her lines of furniture for the new building. The designer agreed and without DuBay's knowledge, they went to manufacturers to ask for special pricing to make the project come to life.
"Every one of the manufacturers came through because they knew about Diane's suicide," said Flores, who took the story and project plans to Arcadia Seating, Kimball, Encore, Mayer Fabrics, and others. "The pricing we got for Casa de los Niños; I have never seen it that low."
CORE Project Manager and Designer Brieanna Green had just started at CORE when Flores had taken on the Casa de los Niños project. Though she had known for a long time that Flores and her husband were giving people, she said she was surprised by the depth of the volunteer work that went into this project.
"I had no idea," said Brieanna. "I was thrilled to be a part of it. My heart just went out to Terry. I have a teenage daughter and I quit my previous job to be with her. To be a part of this felt appropriate. To be there for other people, we need to do things like this."
A Personal Touch
In addition to the hundreds of hours of work CORE performed for Casa de los Niños since January 2017, Mercedes wanted to do something more personal. She worked with the staff at Casa de los Niños to dedicate a room in Diane DuBay's name. Mercedes put together verbiage for a special plaque outside of the room. In addition, she took quotes from the Lemony Snicket's books Diane loved reading as a child and turned them into canvas artwork to beautify the room to give it a more personal touch.
On Dec. 20, 2018, the room was ready for unveiling so Flores and Lisa Webster, Director of Development and Community Relations for Casa de los Niños, took DuBay on a tour she will never forget.
"We were kind of standing by the room and then they took me over to see it and I saw the plaque; I just fell apart," said DuBay, who added that the holidays are especially difficult without her daughter. "It said 'The DuBay Room' and it had Diane's name on it. In a 100 years, I would never have expected that. It was just very moving."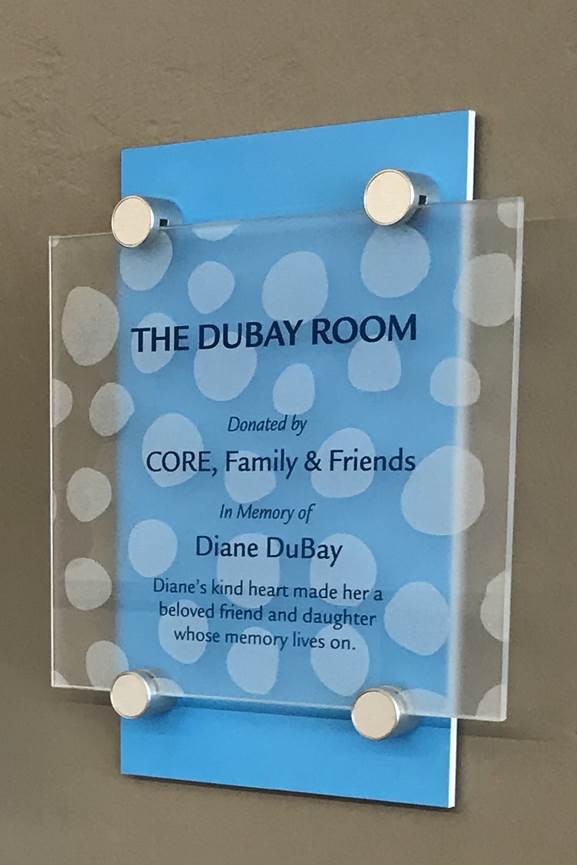 Terry said she was incredibly surprised by the extent of it all from the volunteer hours to the participation of all of the people involved. Most of all, she was overwhelmed by the gift from her dear friend.
"Mercedes is one of the most loving, generous people I have known in my life," said Terry. "She has helped so many girls through tough times. Since I lost Diane, she has been so supportive. I don't know what I would have done without my friends and family. It shows the capacity of people to give and love. I am so thankful for her friendship and the love she has given me. It's pretty cool to have people like that in your life."
But if you talk to Flores, she will tell you all of the hard work, time, and money spent were just the right thing to do.
"It was no big deal," said Mercedes. "If we have the opportunity to do nice things, we probably should."
If you would like to learn more about Casa de los Niños or wish to make a donation, please contact the organization at (520) 624-5600 or visit them online.