What's Hot in Hospitality: Five Design Trends for 2021
By Angela D. Wagner
With a return to normalcy happening slowly but surely in the wake of the COVID-19 pandemic, the hospitality industry is finally beginning to see an uptick. People are starting to travel again and are feeling more comfortable in public spaces across the board.
Our year in quarantine has affected virtually every aspect of our lives, but in the case of the hospitality industry, there is now a push to bring us back together again. Many of the trends we are now seeing in the hospitality industry provide a real emphasis on socialization and comfort, which is something we at CORE are very excited to see.
Outdoor Spaces
With the pandemic came a natural shift to outdoor dining, working, and socializing, but it looks as though the shift back won't be happening any time soon. A report by the World Economic Forum provides examples of outdoor spaces across the globe that both encourage and normalize outdoor gatherings. From restaurants and cafes expanding outdoor dining opportunities to streets being widened for more cycling and social gatherings, the outdoors has become a new haven for getting together post-COVID.
For the hospitality industry, this means an increased emphasis on outdoor dining rooms and communal spaces. A patio or deck naturally comes to mind, but rooftops are an often underutilized space that is perfect for outdoor entertaining, especially in crowded cities. Many restaurants have even taken to expanding onto sidewalks or into the street, where allowed, in order to accommodate their guests' need for an al fresco dining experience.
A great example of this is Ermanos Craft Beer and Wine Bar right here in Tucson, Arizona. Located on historic Fourth Avenue, Ermanos recently unveiled their latest expansion: a covered dining area built right on the sidewalk in front of the restaurant that juts out into the street where parking spots used to be. Outfitted with misters and custom LED lighting panels, the new space has quickly become a crowd favorite and is a great example of accommodating outdoor space where there seemingly is none.
All you really need for a killer outdoor hospitality area is beautiful, yet durable, furniture that's designed to withstand the natural wear and tear that goes along with being outside. Source Furniture is your one-stop-shop for all things alfresco. The company offers a wide variety of basic outdoor furniture pieces, as well as more niche items such as cabanas, daybeds, and chaises for poolside areas. One of their latest collections, Iconic, features simple and elegant seating options and marbled-porcelain topped accent tables that are sure to please your guests.
When it comes to accessorizing, you can turn to Magnuson Group. With Magnuson Group, you'll find ancillary products from ashtrays and waste receptacles to seating that works both indoors and outdoors such as the RIVISTA bar stools with technopolymer seats and painted frames.
Bernhardt Furniture Company offers some fabulous exterior furnishings that offer an exquisite feel to any outdoor space. Bernhardt exteriors feature a range of luxury outdoor pieces from dining tables and chairs to occasional tables, sofas, sectionals, and more. These pieces are characterized by a superior design and beautiful materials that lend to the company's all-weather pieces. Whether you want to provide outdoor seating on the patio, terrace, or deck, Bernhardt has the outdoor furnishings your hospitality business requires. The company even has accent pillows which you can use to decorate and cozy up any outdoor lounge seating to add more warmth and comfort.
Natural Elements
Both Innvision Hospitality and Central Seating cite the inclusion of natural finishes and colors into hospitality design as trends for 2021. Typically when we think of natural elements, we tend to think of greenery, wood, or stone finishes along with earth tones. These components are very calming and promote freshness within a particular space.
You can place planters around the room for an instant boost of nature to any setting. Peter Pepper Products boasts a range of them: bright turquoise or maroon, stone and bronze, plus small tabletop options. Planters allow you to bring some of nature indoors to breathe life into a setting whether on the dinner table, in the lobby, or even in gathering areas.
You could also consider installing a living wall indoors or out. Use small planters to hold live plants and hang them on the wall. They're a super trendy way to incorporate flora into any room with ease and require little upkeep. Claridge offers mobile biophilic panels to bring the green inside using naturally preserved plants. These long-lasting, maintenance-free gardens require no water, misting, or irrigation, no light, no soil, but retain a vibrant, fresh-cut look and feel for 7 to 10 years.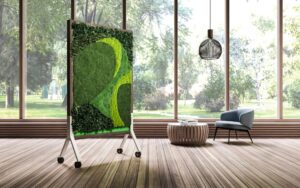 Lifestyle Lobbies
More and more we're seeing a move toward comfort and a quintessential "hominess" in the hospitality industry. "Now being deemed 'lifestyle lobbies,' checking in to your local resort or hotel will feel more like entering a family room rather than the typical lobby structure you've grown up seeing," according to BuildCentral.
The key to a lifestyle lobby is comfort. You want your guests to feel relaxed and safe when they're staying with you, so go for furniture that has a more resimercial (residential and commercial combined) feel. Cozy armchairs, like the Pyrenees Lounge Chair from Woodland Furniture, and plush sofas such as the Denny by Community Manufacturing are going to make guests feel right at home.
The aforementioned piece from BuildCentral also suggests providing activities in your lobby, such as TVs with free video games or social events for all your guests to participate in. This can contribute to the home-like feeling as it makes the lobby feel more like a gathering place than simply a spot to check-in and out of a room.
Mix-Matched Furniture
It sounds silly, but having mix-matched furniture throughout your space can contribute to that homey feeling mentioned above. According to an article by Central Seating, "It essentially sends visual cues that your restaurant is not a cookie-cutter chain, but rather a thoughtfully, handcrafted place."
One way to execute this trend tastefully is to make sure your mismatched pieces have a common thread through them. Whether that be a color or a finish, maintaining a commonality is a clean way to mix and match your pieces. In the reverse, you could get different configurations of furniture within the same collection to achieve that mix-matched look with a more subtle touch.
Prismatique's Beleved Plate tables offer style with a variety of tabletop sizes, shapes, and configurations. You can easily achieve the mix-matched look within this collection. Choose from a single-color circular top to tables with a square, wood top. The polished or brushed stainless steel base on each table help pull it all together but add variety to any setting with varied toppers.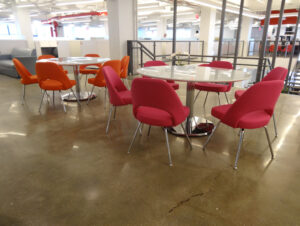 Co-Working Spaces
Given the popularity of remote work as well as a growing number of millennial and student travelers, hotels have been adding collaborative co-working spaces to their list of amenities in place of the traditional business center. These co-working spaces blur the line between working and socialization, which is becoming a common design trend in the corporate world as well.
EKO Contract has a number of collaborative seating collections available such as the Amity, which is a collection of tables, ottomans, benches, chairs, and sofas designed to dynamically bring people and their ideas together. This dynamic collection brings people together in perfect harmony for work and socializing. All of the pieces in the Amity collection can be configured and reconfigured in a variety of ways over and over, keeping open areas in your resort or hotel fresh and exciting.
For a more personalized space, try incorporating the Exchange 1-Seater Workpod from AllSeating into your open area design. These are individual workspaces that can provide people the privacy they may need without having to exit collaborative spaces. With a selection of workpods in addition to collaborative seating, people can work independently, together, or both.
For more information on hospitality furnishings from the great outdoors to the great indoors, contact CORE now at (520) 999-3470. The call is free and there is no obligation.