Make Big Impressions with Your Small Workspace
By Angela D. Wagner
Maybe your small office workspace was planned intentionally to create a cozy, collaborative environment. Or, perhaps, you're economizing as you plan to expand later on. Regardless of why your business is operating in tighter spaces, making the most of the premium space you do have can provide an opportunity for creative efficiency. With the right space-saving furnishings, you can provide your employees with a workplace primed for success.
CORE works with an impressive list of high-quality manufacturers to present a wide variety of options for every workspace and every budget. No matter what your office's total square footage is, the experts at CORE can help you design the perfect workplace in any space with products to show off your business, its work ethic, and its style with complete functionality.
Reception Desks
These are the pieces of furniture that work the hardest to provide your office's best first impression. Affordable with a top-quality appearance and ultimate function, DeskMakers' Overture reception desk is available in many styles, sizes, finishes, and materials. This variety of options enables any business to leave a long-lasting good impression even when space is a concern.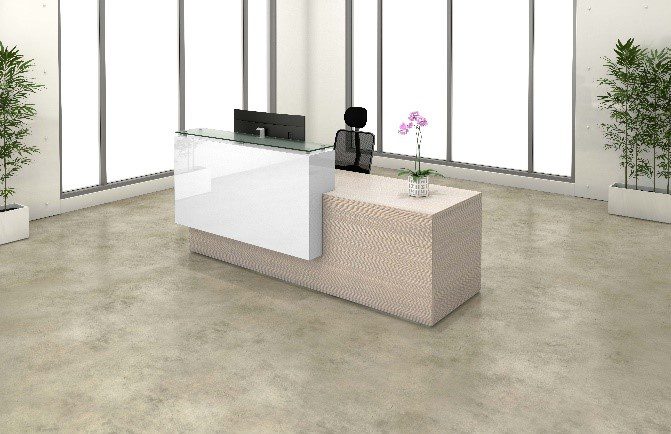 Fluid Concepts offers a variety of reception designs to fit any size and shape of space your organization has available. One of the things we at CORE love most about the reception desks from Fluid Concepts is that they are offered in a variety of finishes and materials which means customizing your reception area from a complete corner desk to a creatively curved design is no problem. Additionally, the company focuses on using environmentally friendly and sustainable materials.
Another great manufacturer of small reception furnishings is Cherryman. Like the others mentioned above, this company offers a multitude of smaller reception desks to fit any space. Its reception products are available in a range of materials from wood and leather to glass top reception desks. Cherryman even offers the seating and tables you need to accent your small reception area while keeping things looking professional without busting your budget.

Small Worktables
For smaller office spaces, wall-mounted work surfaces are a terrific space-saving option. Peter Pepper offers a multitude of curvy and straight-edged wall-mounted worktables to choose from. They come in a variety of materials from metal to wood to match any office décor. With the daily use of modern technology from laptops to cell phones that require charging, the outlets built into these worktables make charging simple so there's no wasted time searching for a place to charge.

When training sessions are completed, reuse the space by storing these Drake inline nesting tables with flip tops from ERG International. These easily stored tables are on casters for maneuvering made simple. The small worktables allow you to use your smaller spaces with versatility, style, and complete functionality.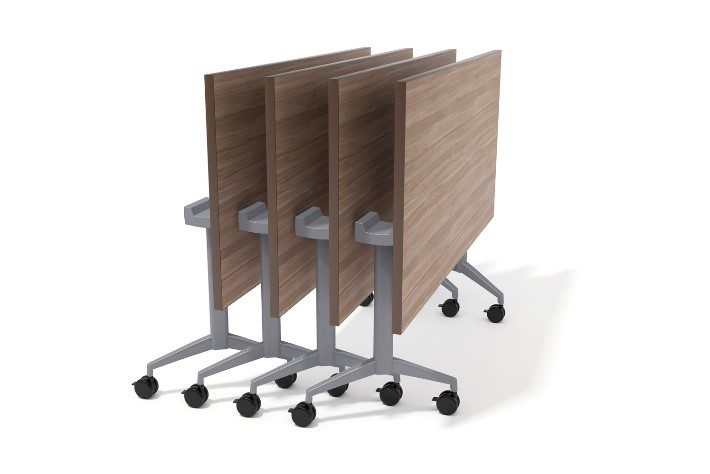 Multi-purpose tables by HON are another great option for small spaces that require furnishings to handle working double duty. Whether you need your tables to be mobile workstations with a height-adjustable base or you need them to work in interactive training spaces, these multi-purpose tables can do it all. They are easy to move, reconfigure, and stow away quickly. Talk about smart furniture!
Compact & Portable Workstations
Perfect for smaller work areas, the Cloud Workspaces offered by in2design offers an opportunity for focused individual assignments or group projects. With its compact design, the Cloud is ideal for privacy but is also open enough for working with others. Your employees will love how the design allows them to transition quickly from individual tasks to group activities and discussions. Their small footprint and inviting oval shape make them ideal for small spaces.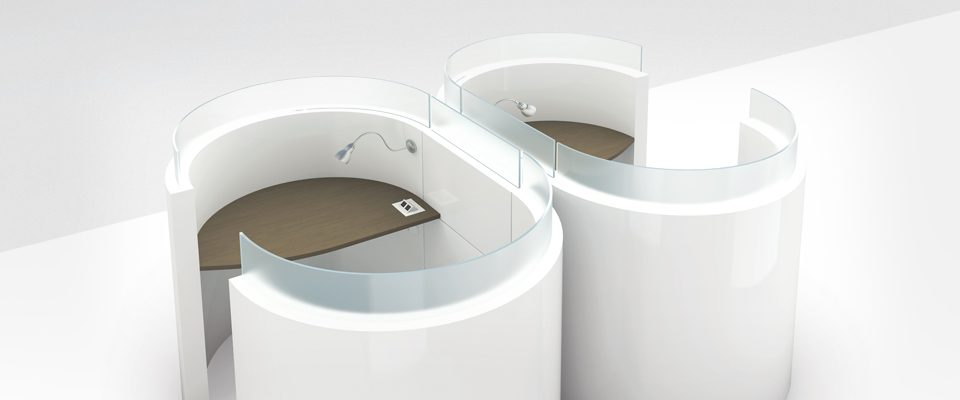 You might not be able to move walls to create more space, but the next-best thing is a movable workstation. The KORE Work Cart by Kimball® is designed for smaller spaces that embrace shared workspaces. This piece is completely adaptable, giving employees the option to work privately in their own space or move their desk with ease to work with others in a shared space.
Mobile Service Desks by TMC Furniture are ideal for healthcare settings. These desks are set on casters to allow them to move in and out of spaces, even small ones, with ease. They are a perfect addition to settings that change frequently such as patient waiting areas. They even offer calming images on the front to beautify your office or business while improving patient health.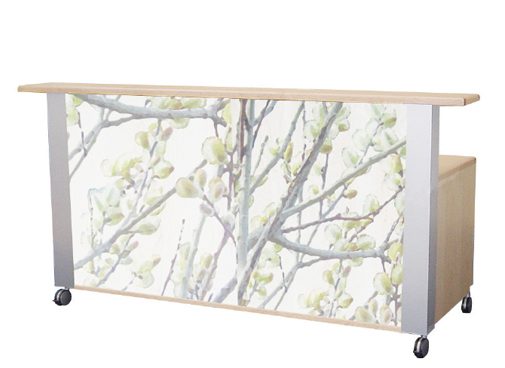 Height-Adjustable Furniture
Design a work area that goes beyond mere cubicles with the versatile offerings of the sit-stand Equity workstation by Neutral Posture. It employs a panel-based system that is an industry first, allowing for modularity along a centerline and 90-degree and 120-degree planning that's perfect for open-plan layouts.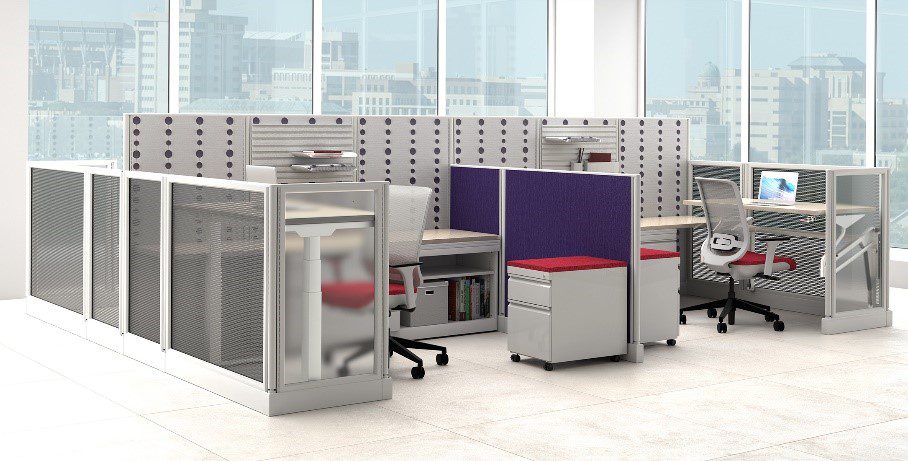 Quiet motors raise or lower the height of the TiMOTION worktable by ergoCentric a range of 26.5 inches in just 17 seconds. This allows for a variety of specialty heights for comfortable work environments in small or large spaces. It offers a sturdy and economical sit-stand solution for even small work areas.
AMQ offers height-adjustable desks with a standard push-button handset offering four memory presets to make getting the height for each employee just right. The adjustable bases fit three work-surface sizes so you can get the desk that offers a perfect fit for your available space. These desks promise quiet motors and can be used alone or added to others for condensed workspaces.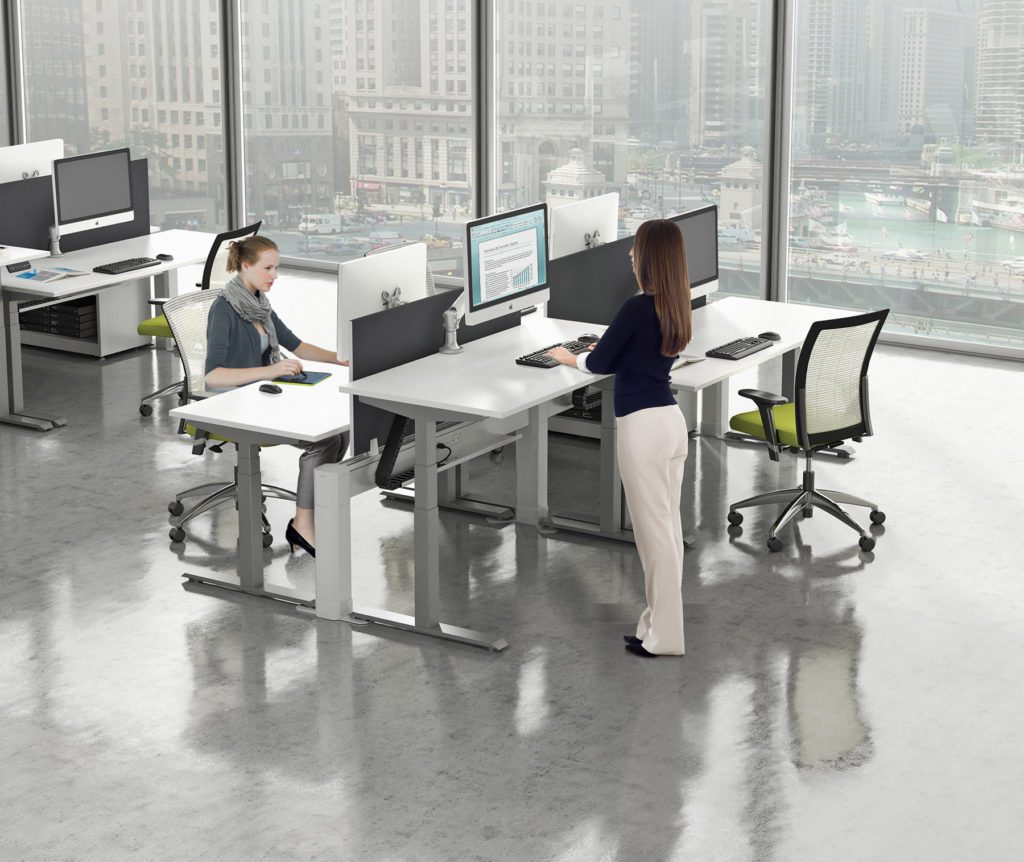 Storage Cabinets
For offices storing paper files in cabinets, Spacefile offers space-saving tambour doors whose shutters roll up to reveal files, then roll down for security. They also promise a clean, professional appearance, which is especially important in open office spaces. The best part is they are totally customizable to fit your specific space and storage needs.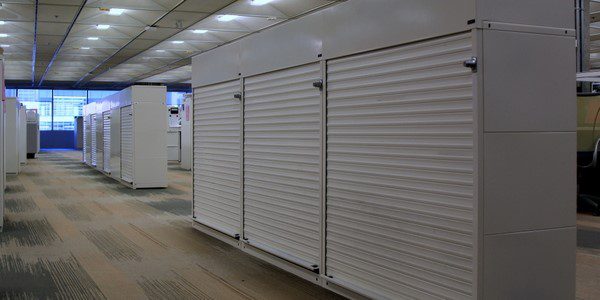 Spacefile's Roll-Away II & III systems provide laterally movable shelves in front of a rear stationary unit, none of which are mounted to the floor. This is a cost-effective, space-saving solution when it comes to meeting your business storage requirements. The mobile rows allow for tons of seamless storage in the smallest of spaces.
Small offices can be challenged to provide storage for personal items left out in the open. Not only can personal items create a cluttered, unprofessional appearance, but leaving items out doesn't do much in the way of security. Footprint® Pullout Storage by Kimball offers secure, secluded storage that gives your team members their own area even in an environment where space is at a premium.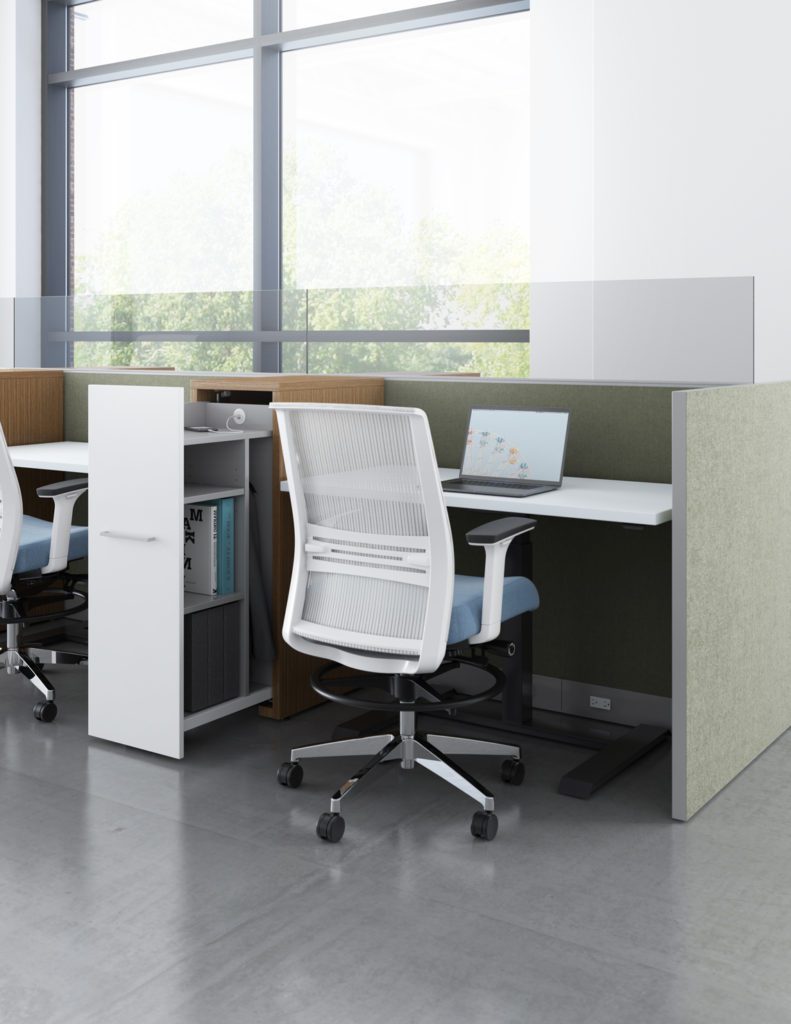 For healthcare environments, Alterna® by Kimball®Health offers modular caseworks that can be seamlessly added no matter your space considerations. This healthcare furniture adapts well to small public areas as well as clinical spaces and workstations. The caseworks can be completely modified to meet the availability of space in your office.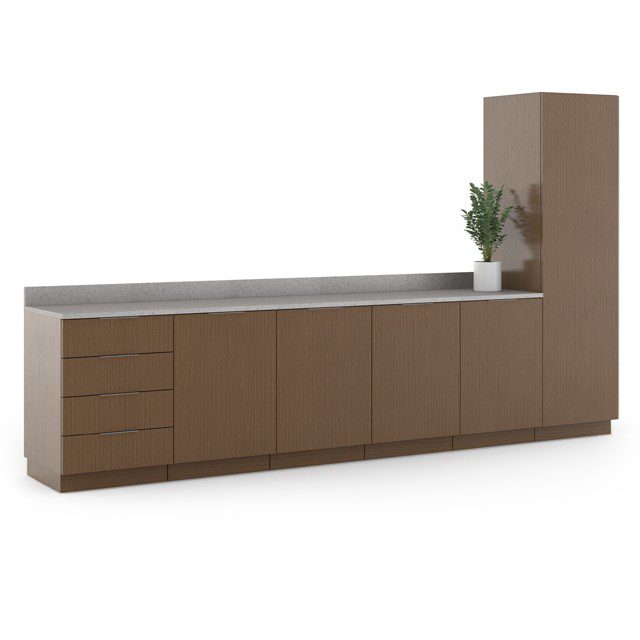 Seating Selections
Small offices are often challenged to provide temporary accommodations for clients and other guests. HON Office Furniture's nesting chair is a flip-up model that stores easily in a small area. These seats open easily to provide comfortable seating. Another perk: It sits on casters that make it easily mobile.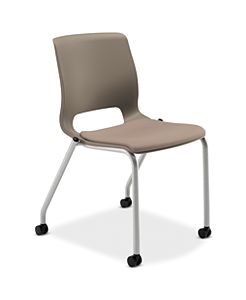 Safco's new Cava collection offers desk and office seating with rounded lines, colorful and comfortable fabrics, and ergonomic options to keep workspaces comfortable and appealing. You can choose whether you want seating that is stackable or on casters for added mobility. There are a variety of styles ranging from low-back to high-back and those that are height adjustable for better ergonomics.
To allow employees to move seamlessly from sit to stand and back again, consider the variety of stools offered by Sitwell. Sitwell stools promise comfortable height-adjustable seating in a range of styles and colors. They can be used as a footrest when standing and don't take up much room. They also sit on casters for simple mobility when it comes time to move to your next collaborative assignment or team meeting.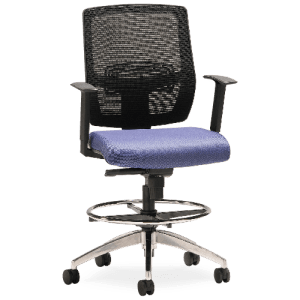 Maximizing Desk Space
Those awkward 90-degree corners can become functional with RightAngle Products' Create-A-Corner. These desks maximize your use of space by taking any such corner and turning it into a useable workspace using flexible articulating arms. With RightAngle, you can make every corner count.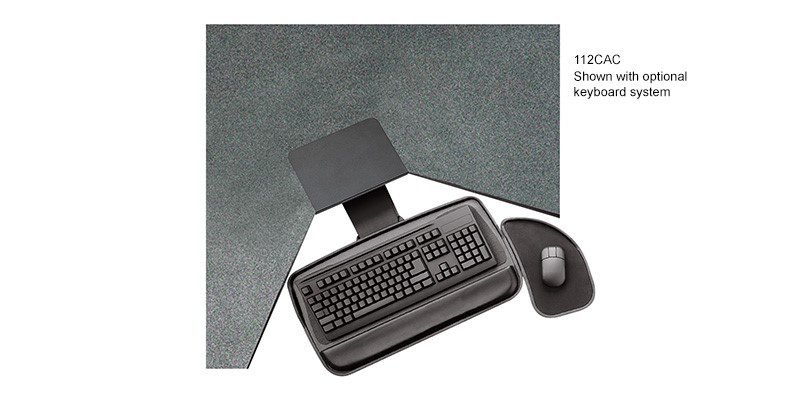 Need to maximize every square foot of space atop each desk? The clamp mount monitor arm by National Office Furniture lets you get organized with a non-permanent installation. Simply use the clamp to secure the monitor arm to the edge of the desk and you have just saved yourself valuable surface space on your desktop.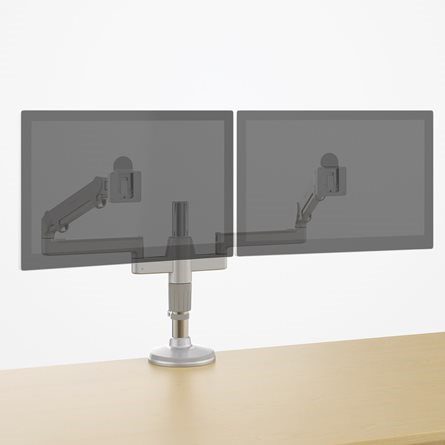 Optimizing small spaces pays off
Space challenges don't have to mean giving up a professional appearance. You can achieve effective functionality and room to maneuver in your office for employees, clients, and guests regardless of the space you have. A wide variety of products and designs are available to afford even the smallest offices to look and feel successful. With the right mix of furnishings and products to equip your work environment, you'll begin feeling like you're already in larger quarters.
To learn more about space-saving corporate office furnishings and products, contact CORE online or call us today at (520) 999-3470.