Trends in Office Furniture and Décor to Watch for in 2020
As we enter 2020, we are not only moving forward into a new year but into many exciting developments in commercial office furnishings and interiors. With shifts in workplace trends such as hot-desking and multiuse spaces to décor changes and advancements in technology, there is a great deal for employees to look forward to. Here are a few trends to watch for, and aspire to, in the year ahead in the modern workplace.
Incorporating Technology
Technology is growing at an
exponential rate and today's workforce understands how to leverage it. That
means employers need to not only incorporate its use to boost business but it
can be wielded to bolster employee morale.
Falcon Products offers a variety of training tables that
integrate power for mobile devices such as laptops along with cord management
systems to avoid clutter. The Add-On
Symetris, for example, comes in both standup and counter heights and
are USB power capable. These desks can also be flipped and nested for ease of
storage.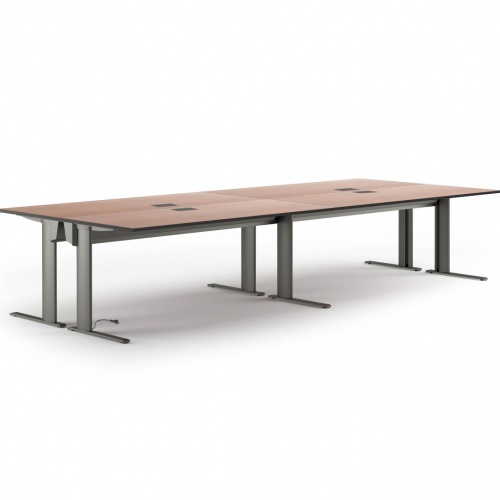 Imagine your employees walking into a
cordless office space where they can get to work quickly and operate seamlessly
throughout the day. With the advent of 5G communications, wireless is becoming
better than ever before. It offers less latency, the ability to connect more
devices, and there's expanded coverage even in offices off the beaten path.
There are multiuse tables that can
recharge mobile devices from cell phones to tablets without using a cord. You
can simply just set your device down and it will charge. Additionally, there
are furnishings that incorporate technological elements from screens to cameras
and other tools that will make our everyday work life easier. These tools will
allow us to hold virtual meetings.
Colorful & Creative Office Spaces
The days of colorless black and white
office spaces are gone. No more are employees stuck in drab office spaces,
watching the clock for their next opportunity to escape. Today's offices are
trending to the use of vibrant colors in everything from the paint on the walls
to the seating employees use to inspire them to do their best work, either
alone or collaboratively.
Coriander Designs promises colorful,
creative seating options for your lobby, waiting room, or shared spaces with
its Kenzie
Lounge Chairs. This modular seating collection produces a sweeping,
curved, or rounded area for collaboration or independent seating. To add a
sense of relaxation and comfort associated with the "resommercial" movement
(bringing the feel of home into the workplace), there are six different ottoman
choices for Kenzie as well. Flush power modules with two receptacles featuring
dual USB ports are an additional option to make your common areas ever
functional.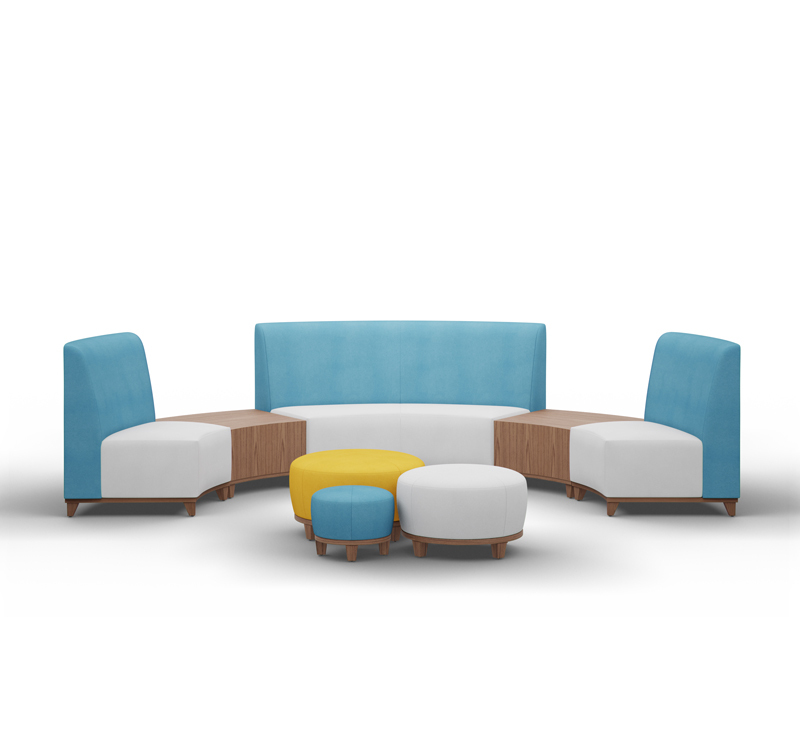 Even glass boards are getting a color fix. For example, Fulbright Glass Boards offer not only a wide selection of standard and custom glass boards in a variety of sizes and finishes, but businesses can now select a glass board from a multitude of colors as well.  Fulbright Glass Boards offer at least 47 different colors to choose from to compliment any office color scheme. Whether you want to energize workers or your desire is to relax patients, you can create an environment that supports the accomplishment of your goals. You can even use your glass boards for marketing as custom-printed graphics such as logos are now available.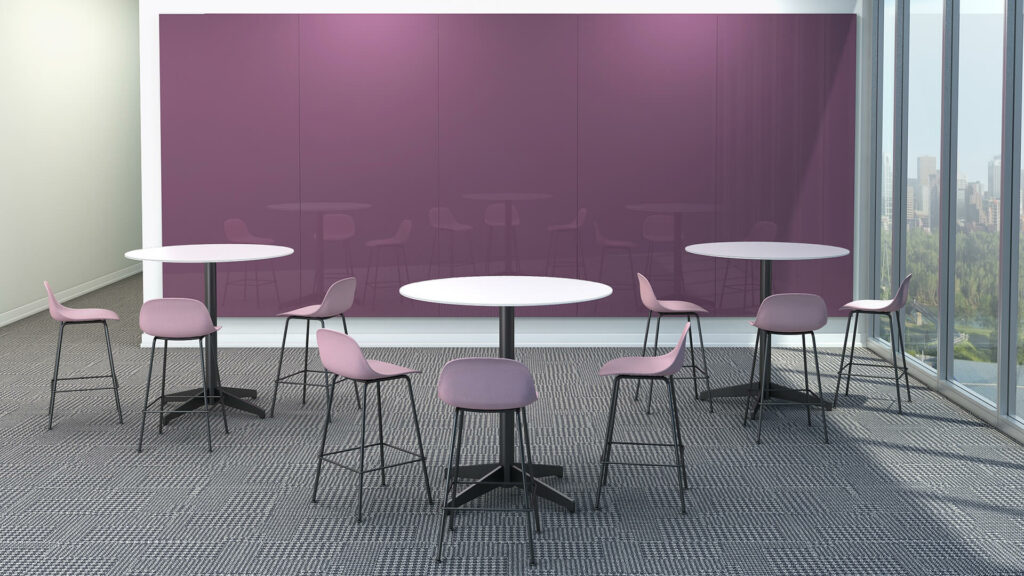 Wood Wins
While the incorporation of pops of color help to invigorate your employees, wood is still king when it comes to conference rooms and reception desks. Whether you want something with clean lines or curves that draw the eye, wood offers what you want.
Wood works well with a variety of
color elements in any office. For example, light woods compliment décor with
darker colors to brighten a workspace while darker woods work in lighter
environments. Wood provides a sense of elegance, charm, and sophistication to
any work environment. It's also strong and durable so investing in wood
furnishings means purchasing furniture that's meant to last.
Take for example the wide variety of
wooded reception furniture offered by Groupe
Lacasse. The first thing someone sees when they enter your office
space is typically the reception desk. We all know first impressions count so
incorporating wood demonstrates a sense of professionalism and reliability.
Not only does the use of wood make a
statement of classic style, but it also can improve wellbeing, bolster job
satisfaction, and drive productivity, according to the study Workplaces:
Wellness + Wood = Productivity. The study shows that biophilic
design elements such as natural light, wood, and plants can increase
productivity in the office by eight percent and a sense of well-being by 13
percent. The same study shows employees in "work environments with exposed wood
feel more connected to nature and have more positive associations with their
workplace." Furthermore, those working in environments featuring wood furniture
have higher levels of wellbeing, take less leave, and demonstrate higher levels
of concentration, improved mood, and personal productivity.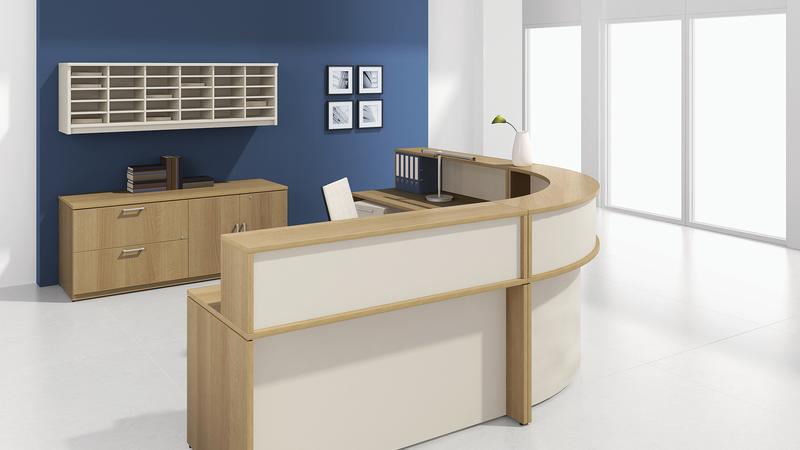 Flexible, Multifunctional Spaces
No longer are office workspaces relegated to cubicles. Today's modern office offers employees an open, cooperative workplace. This calls for more flexible, multifunctional workspaces, which are becoming increasingly popular. Not only is it good for existing employees, but many companies are finding this is a means of drawing top talent to their organization.
Some offices are turning smaller rooms
into areas where employees can meet, brainstorm, or simply take in a coffee
break. Larger spaces are being left open with a variety of seating options from
shared seating and tables to individual desks to employees can float from one
area to the next as needed. What's great about these multiuse spaces is that
they can be transformed and flex for the needs of your employees.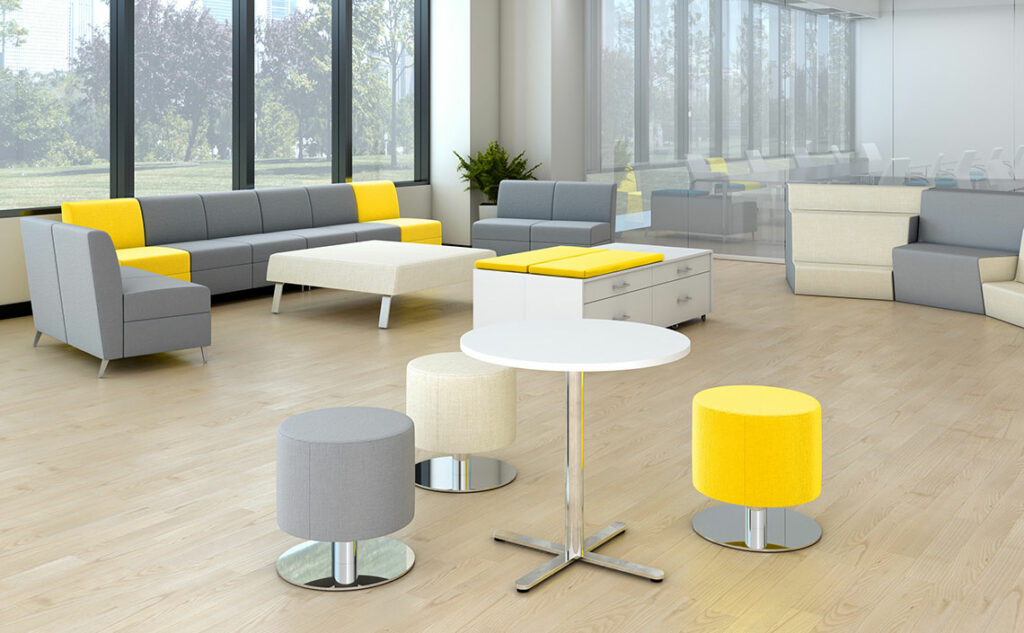 While the thought of noise can hamper
the idea of incorporating such open spaces in the workplace, there are products
to help with that as well. For example, Nevins offers acoustic hanging
panels to create smaller spaces in larger areas while reducing noise pollution.
Its Ariel
panels, which are suspended from the ceiling, offer a modern way to
divide workspace and come in a wide variety of patterns and colors to
compliment your office décor.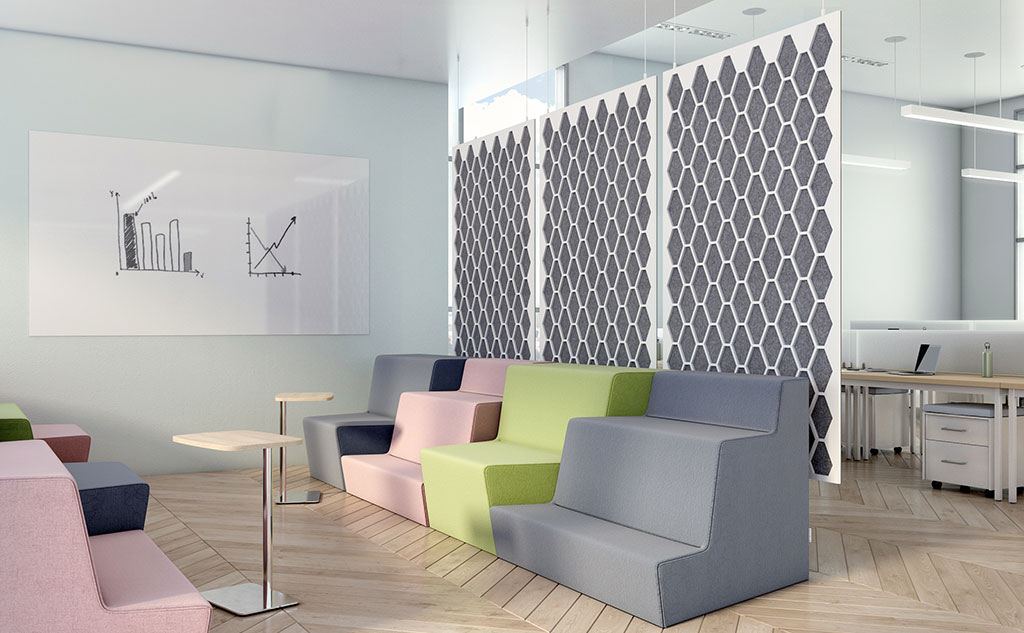 Additionally, fixed work areas are
also becoming a thing of the past. This is especially true with so many people
working remotely and spending less time formally working in the office.
Companies are freeing up traditional work desks to create multipurpose spaces
where workers can move according to what they are doing at that moment. Such
breakout spaces have become a popular movement as it has increased
communications between departments and improved idea sharing to benefit the
company while boosting morale.
Bringing the Outside In
Biophilic designs have really taken off in the last few years and you can expect to see more of it incorporated in offices as we move ahead into the 2020s. Nature has begun to entrench itself in workplaces to create a more pleasing environment for the modern worker. The aforementioned Workplaces: Wellness + Wood = Productivity demonstrates that biophilic design elements including the integration of natural light, wood, and plants increase productivity and well-being, reducing employee sick days as well as turnover.
Whether you're bringing in live plants or opening up natural light with huge windows, biophilic design is expanding. Peter Pepper offers Kona planters that have a subtle tapered steel body that sits on a rotationally molded base with low-profile swivel casters. These can be used indoors or out, are easy to clean, and are completely recyclable. In addition, they are resistant to UV, moisture, and changes in temperature making them a sustainable way to incorporate nature into your office space.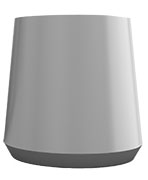 Healthier Workplaces
In addition to biophilic design,
proper ergonomics in the workplace are also improving health for our modern
workforce. Study after study has been done demonstrating the importance of proper
ergonomics in the way we sit, stand, and work. Modern office furnishings from
office chairs to height-adjustable desks are improving the health of employees.
According to the U.S.
Bureau of Labor Statistics, 33 percent of all injury and illness
cases in American workplaces are related to musculoskeletal disorders. The Centers
for Disease Control and Prevention (CDC) estimates that $45 to $54
billion is lost in productivity, wages, and compensation costs annually due to
work-related musculoskeletal disorders. The best part is that all of this is
preventable with proper ergonomics in the workplace.
The furniture manufacturer ergoCentric
offers seating and height-adjustable desks to prevent such musculoskeletal
disorders while reducing workplace injury claims. Proper ergonomics have been
shown to increase productivity, efficiency, and the quality of work as well,
according to ergoCentric. For
example, the geoCentric chairs
offered by ergoCentric provide versatile and adaptable seating solutions for
all office requirements. Regardless of task or user, this chair is ideal for
general office work and a multitude of other tasks and is adjustable enough to
fit any user for proper ergonomics.
Deskmakers offers a wide range of height-adjustable desks and tables for improved health in the workplace. Take, for example, the Hover collection of work surfaces. These desks and tabletops offer sit-stand solutions that allow employees to stand or sit as they work. An online article by U.S. News and World Report shows that standing at work offers many benefits including improved health. In addition, height-adjustable work surfaces allow anyone to adjust a table or desk to a height that is best for them.
If you are interested in learning more
about office trends moving into 2020 or any of the products mentioned above,
contact CORE (Corporate Office Resource Environments) at (520) 999-3470. You
can also visit us online. Our
commercial office specialists are here to answer all of your questions and
assist you in building a modern, healthy work environment for your employees
for years to come.